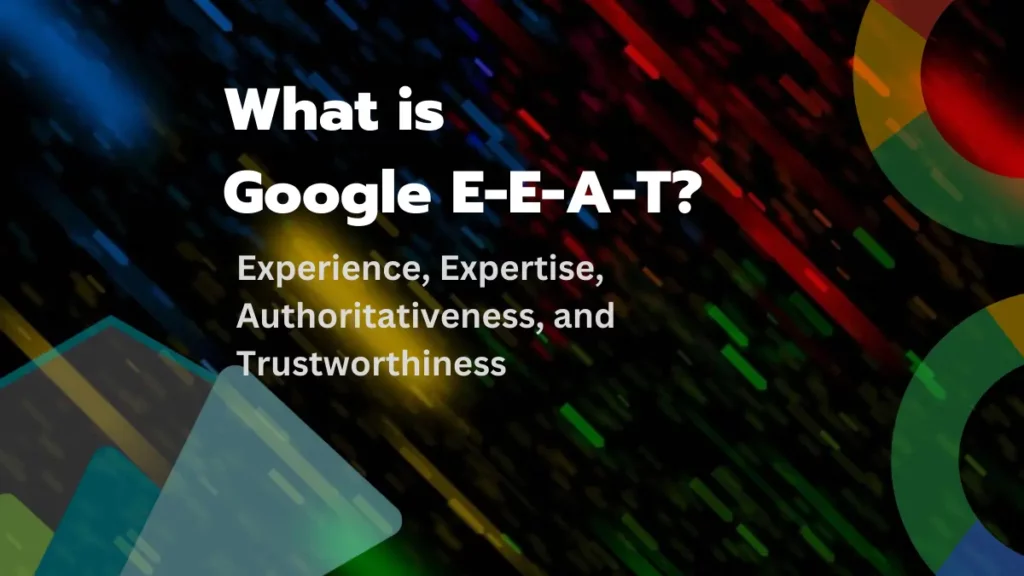 What is Google E-E-A-T?
Google's New E-E-A-T Model
Google recently shared some new changes to the Google Search quality rater guidelines that are now more heavily influenced by first-hand experience than ever before. Updates to the search quality rater guidelines list a new set of criteria that Google uses when evaluating a page's authority. In addition, Google has revised its E-A-T model, adding 'experience' to the acronym with an additional 'E'.
The new E-E-A-T model, which stands for Experience, Expertise, Authoritativeness, and Trustworthiness, describes qualities that Google looks for when ranking websites.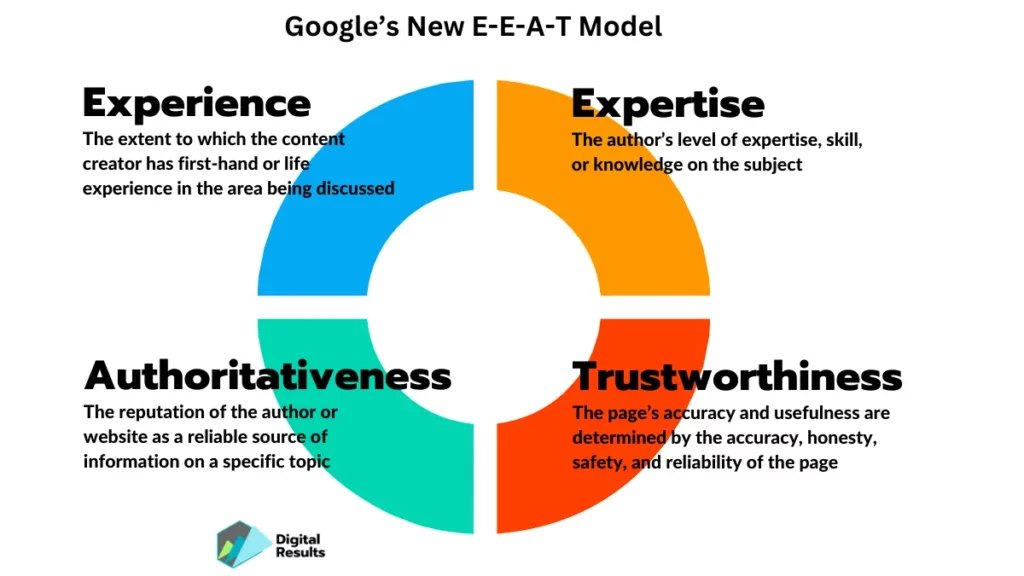 Experience: The extent to which the content creator has first-hand or life experience in the area being discussed
Expertise: The author's level of expertise, skill, or knowledge on the subject
Authoritativeness: The reputation of the author or website as a reliable source of information on a specific topic
Trust: The page's accuracy and usefulness are determined by the accuracy, honesty, safety, and reliability of the page
Google has updated its search quality rater guidelines and now includes more information on how to evaluate a content creator's expertise.
What is Experience in Google E-E-A-T?
According to the Google search quality rater guidelines:
"Experience: Consider the extent to which the content creator has the necessary first-hand or life experience for the topic. Many types of pages are trustworthy and achieve their purpose well when created by people with a wealth of personal experience. For example, which would you trust: a product review from someone who has personally used the product or a "review" by someone who has not?"
Google cites several examples demonstrating that the importance of real-world, personal experience is paramount:
How Google's Quality Raters Evaluate E-E-A-T
Google's search quality rater guidelines have multiple chapters that evaluate E-E-A-T, ranging from the least to the most important.
Chapter 4.5.2: Lowest-Level E-E-A-T
According to chapter 4.5.2 of Google's search quality rater guidelines:

Chapter 5.1: Low-Level E-E-A-T
In Chapter 5.1 of Google's search quality rater guidelines, examples are provided of things that Google wants its raters to look for when evaluating pages with low levels of Expertise-Expertise-Authority-Trustworthiness (E-E-A-T):
Low-quality pages often lack sufficient E-E-A-T for a given topic or purpose. The examples below illustrate this type of observation:
The author of the article that you are reading is not an authoritative source for the topic, such as investment recommendations on a car website.
The website has no customer service or contact information, making you question the site's credibility.
An article was written by someone who lacks the adequate experience to be inaccurate, such as a "Top 10 Sushi Restaurants in San Francisco" written by someone who has never visited the businesses or the city.
An author lacking adequate expertise should not attempt writing about a subject they know little about, such as an article about how to fish written by someone who has never picked up a pole
Furthermore, Google has said that a website's reputation will not overcome an insufficient E-E-A-T for the topic or purpose of a page.
Chapter 7.3: High-Level of E-E-A-T
In Google's quality rater guidelines for rating E-E-A-T, chapter 7.3 gives information about achieving a high-level of expertise, expertise, authority, and trustworthiness.
Google says that in order to demonstrate your experience, you should: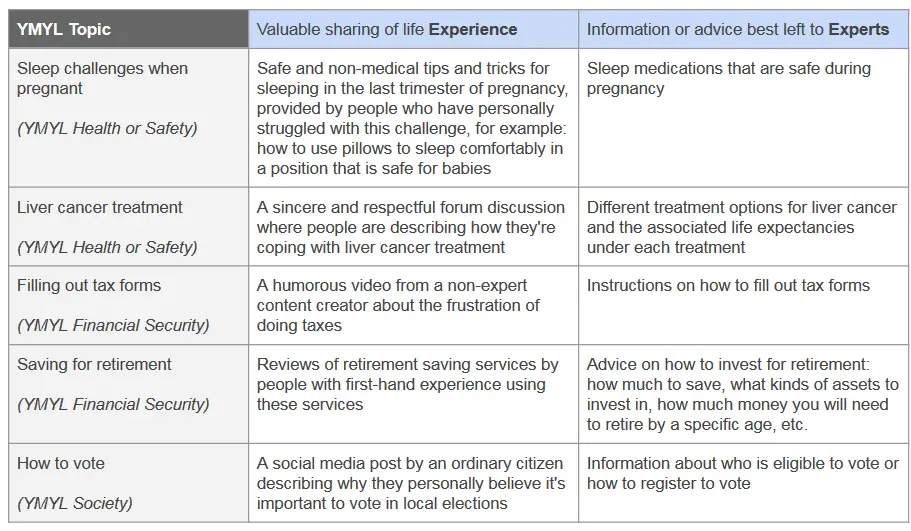 Chapter 8.3 Very High-Quality Level Of E-E-A-T
Chapter 8.3 of Google's quality rater guidelines stipulate that achieving the highest level of E-E-A-T involves ensuring that your site is:
What Else Changed in the Google's Quality Rater Guidelines?
Here is what changed, primarily based on the final page of the revised PDF that documents the changes:
Adding the Experience topics to a PDF is the most significant change.
In its most recent update, Google broadened the criteria used to assess page quality to include all types of websites and content creation models.
There is new clarified guidance on "Finding Who is Responsible for the Website and Who Created the Content on the Page" to help you determine who is responsible for a website and who created its content.
A summary table is provided with the Page Quality Considerations (PQCs) involved in each of the PQ rating sections (Lowest to Highest), allowing for a clear understanding of the importance of each area.
Guidance on the following core pillars of Page Quality Rating has been refined/expanded:

Experience, Expertise, Authoritativeness, and Trust (E-E-A-T)
Content quality is one of the main components of SEO
Reputation is important for both websites and content creators

Reordered the PQ rating sections from lowest to highest. Streamlined transitions between these sections by removing redundancies. De-duped existing guidance and examples as appropriate.
They have added additional information to the following sections: "Pages with Error Messages or No MC", "Forums and Q&A Pages", and "Page Quality Rating FAQs."
Reorganized lists of concepts and examples into tables.
Updates were made to language, examples, and explanations for consistency across sections; outdated examples were removed, and typos were fixed.
More on Experience in E-E-A-T
Google has also said that the experience of its search engine's algorithm adds a level of quality to assess its search results. What kinds of experiences are most valuable to Google? According to Google, "content also demonstrate that it was produced with some degree of experience, such as with actual use of a product, having actually visited a place or communicating what a person experienced" According to Google, there are some situations where content written by someone who has first-hand experience with a topic is more valuable than content written by someone without that experience.
Google shared an example that illustrates this point, "if you're looking for information on how to correctly fill out your tax returns, that's probably a situation where you want to see content produced by an expert in the field of accounting. But if you're looking for reviews of a tax preparation software, you might be looking for a different kind of information – maybe it's a forum discussion from people who have experience with different services."
In its updated guidelines, Google said that Experience, Expertise, and Authoritativeness are essential concepts that can be used to determine trustworthiness. In addition, Google has stated that Trust is the most crucial member of the E-E-A-T (experience, authoritativeness, and trustworthiness) family because untrustworthy pages have low E-A-T, no matter how experienced or authoritative they may seem.
Google explained the difference between "expertise" and "experience" as "pages that share first-hand life experience on clear YMYL topics may be considered to have high E-E-A-T as long as the content is trustworthy, safe, and consistent with well-established expert consensus."
Google makes constant changes to its search algorithm and search quality rater guidelines. While Google states that factors such as E-E-A-T do not directly influence a website's ranking, the fact that they are included in the guidelines of people tasked with rating websites for Google indicates that they may consider these factors.
Although adding "Experience" to the E-E-A-T content creation paradigm can be seen as a minor shift in strategy, it does not require creators to make immediate changes to their content. For example, suppose you follow SEO best practices and try to make your content as useful to readers as possible. In that case, you will likely have used examples of personal experience throughout your blog content.
Ready to Grow Your Search Engine Results?
Let Digital Results assist you in your SEO strategy and help
deliver the search engine results you need.