Digital Results Has Been Named 2022 Best of Nevada Award Winner by UpCity!
To commemorate the top providers in each U.S. state and Canadian province, the UpCity "Best of" Award highlights the tremendous work being done by our partners and more in their local area. Awards are given based on the UpCity Recommendability Rating, which was developed to determine a B2B service provider's credibility and trustworthiness, giving UpCity the confidence to recommend them to potential buyers seeking their services.
We are proud to reveal that Digital Results has been recognized as the 2022 Best of Nevada Award winner by UpCity!
UpCity is an online B2B marketplace that helps businesses find trustworthy service providers.
UpCity is a comprehensive service that helps business owners find the right partners for their marketing, development, and other companies' needs. With more than 70,000 businesses listed, UpCity has helped over 1.5 million businesses find exceptional partners to grow their business.
UpCity's proprietary algorithm ranks top marketing agencies on their platform based on a variety of factors, including digital data points like reviews (both on UpCity and other third-party review sites), rankings in relevant search results, domain authority, website speed, and user experience.
Jack Thornburg, VP of Organic Growth of UpCity, had this to say about Digital Results: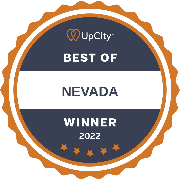 "Digital Results focuses on their area of expertise and runs with it. This diligence and work ethic is why they have achieved the award today. Congrats to this team!"

Jack Thornburg, VP of Organic Growth, UpCity
This recognition has largely been driven by our 5-star reviews on UpCity. Here is one of our favorite 5-star reviews we've received from our incredible customers:
Thank you to UpCity for recognizing us as the 2022 Best of Award winner. We strive for the best digital results for our customers and are happy that they choose us!