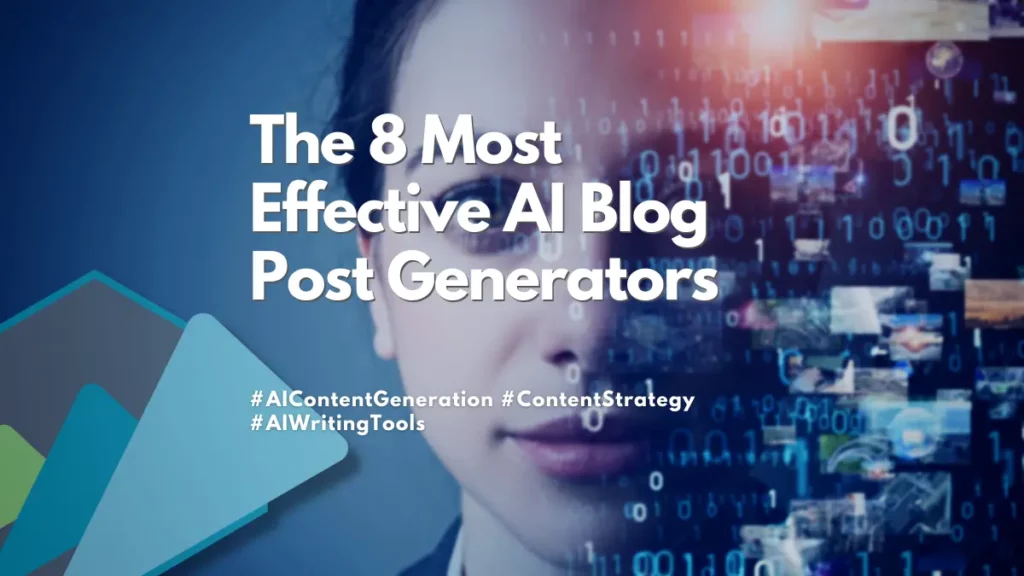 AI-Powered Content Generation
8 Most Effective AI Content Generators for 2024
Artificial Intelligence (AI) is carving a niche by revolutionizing how we create content. AI content generators, a rising star in this AI-driven transformation, are powerful tools that leverage advanced algorithms and natural language processing to deliver high-quality, SEO-optimized content. However, the true beauty of these tools lies in their ability to save countless hours usually spent on brainstorming, researching, and writing, thereby enhancing productivity and efficiency.
Choosing the right AI content generator is essential to reap the full benefits. Different tools vary in capabilities, ease of use, and customization options. Selecting the correct tool can significantly augment your content production, leaving room for creativity and strategic planning.
This guide delves into eight of the most effective AI content generators for 2024. Each tool is dissected, with discussions on features, pricing, user reviews, and more, helping you make an informed decision.
ChatGPT Plus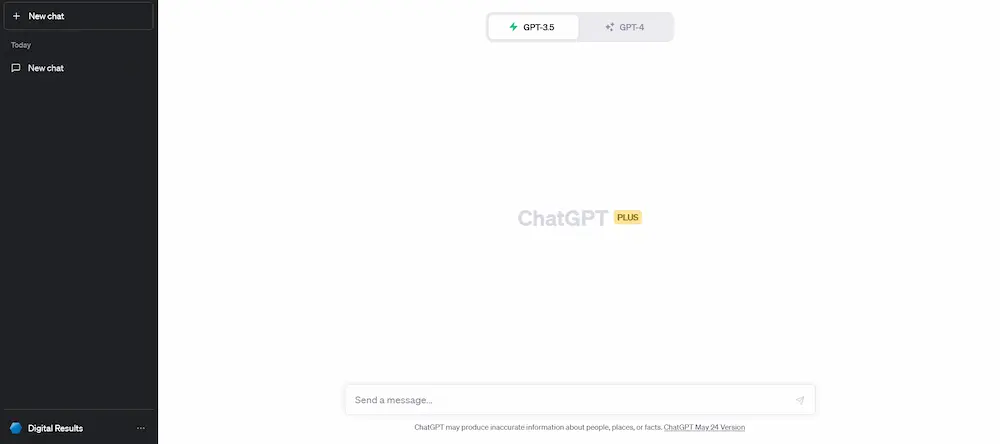 ChatGPT Plus is ideal for crafting high-quality blog content. As a subscription plan, it assures availability during peak demand, ensuring uninterrupted access to the AI. The response speed is expedited, facilitating content generation without significant wait times. Additionally, ChatGPT Plus grants priority access to new features, keeping users at the forefront of AI advancements and enhancing their content creation experience​​.
These features, coupled with the inherent strengths of ChatGPT, such as its impressive understanding of natural language and ability to generate coherent, relevant, and detailed responses, make ChatGPT Plus a fantastic tool for blog content. It can contribute to developing ideas, creating drafts, or even writing full articles, delivering high-quality content consistently. Priority access to new features also ensures that users have the most up-to-date tools at their disposal, maximizing their potential for creating engaging and unique blog content.
With ChatGPT Plus, content creators can increase their productivity and enhance the quality and diversity of their content. ChatGPT Plus is a highly versatile AI content generator powered by OpenAI's GPT-4 engine. Known for its ability to produce high-quality blog posts, it adeptly simulates human-like text. In addition, its user-friendly interface allows for easy fine-tuning of prompts to achieve desired outputs.
Website: chat.openai.com
Features: ChatGPT Plus is a highly versatile AI content generator powered by OpenAI's GPT-4 engine. Known for its ability to produce high-quality blog posts, it adeptly simulates human-like text. In addition, its user-friendly interface allows for easy fine-tuning of prompts to achieve desired outputs.
Plans: Free version uses GPT 3.5. Plus version allows GPT4, plugins, web browsing, and API access.
Pricing: $20/month for ChatGPT Plus
G2 Rating: 4.6 out of 5
ChatGPT Plus offers both a free plan with usage limits and a premium plan that provides priority access, faster response times, and higher word limits for a monthly fee. Users have praised the tool's performance on G2, noting its impressive consistency and adaptability across various content types.
Pros:
High-quality content generation
Advanced AI technology
Intuitive interface
Cons:
Requires more knowledge about prompt engineering to gain the best results
Word limit can be restrictive for longer content of over 2000 words
Surfer SEO AI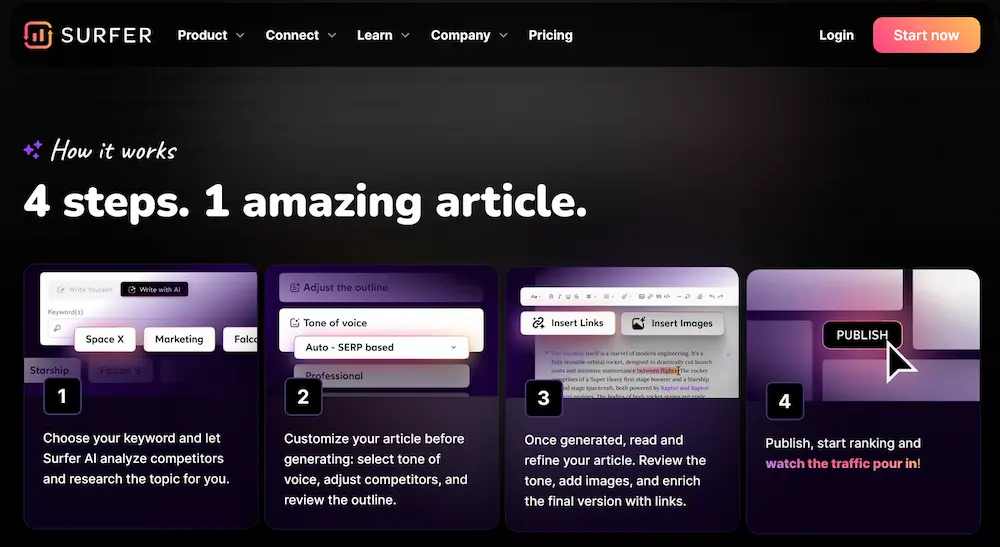 Surfer SEO AI is a powerful tool designed to streamline and enhance the process of creating SEO-optimized content. It offers the ability to generate ready-to-rank articles in a matter of minutes using cutting-edge technology, relieving users of the often tedious process of researching topics, creating briefs, and answering multiple questions​. Instead, users merely choose a keyword. In addition, Surfer AI will analyze competitors and conduct the necessary research, allowing users to customize their article by selecting a tone of voice, adjusting competitors, and reviewing the generated outline​.
What sets Surfer SEO AI apart is its potential to optimize the writing process while also driving organic traffic consistently. Once an article is generated, users can refine the content, review the tone, add images, and enrich the final version with links. The content is then ready for publishing and is designed to rank highly, driving traffic to the user's website​. This AI tool is more than just a copywriter; it's a strategic partner in content creation, promising a faster content generation process, cost-effectiveness, and the assurance of a tool that works around the clock​.
Surfer SEO AI offers various plans, including Basic, Pro, and Business, each with different features and price points. Its comprehensive SEO analysis and AI-based content suggestions have received positive feedback on G2.
Website: surferseo.com/ai
Features: Surfer SEO AI offers various plans, including Basic, Pro, and Business, each with different features and price points. Its comprehensive SEO analysis and AI-based content suggestions have received positive feedback
Plans: Requires a monthly plan as well as a per-piece of content price
Pricing: $29/article created, plus a monthly plan where most pay $179/month
G2 Rating: 4.8 out of 5
Pros:
Time-efficient: Surfer AI can create ready-to-rank articles in minutes​
Cost-effective: The service costs $29 per article, which is significantly cheaper than keeping a professional SEO copywriter​ on staff
Consistent organic traffic: The tool is designed to create content that drives traffic to your website​
Competitor analysis: Users can select their most relevant competitors to tailor the tool's recommendations​
Link and image insertion: The tool can automatically insert links and images into the content, saving users time and effort​
Cons:
Users are charged for content created but unused due to not matching need, tone, or brand
Limited creativity: As an AI, Surfer SEO cannot replicate a human writer's unique creativity
Need for human supervision: While the AI generates articles, users still need to review and refine the content​due to false information and incorrect content being added
The limited tone of voice options: Despite offering a selection of tones, it might only partially replicate every desired style
Some features are still in development: For instance, automatic image insertion with SEO descriptions is a feature that is promised to come soon, but isn't available yet​
Jasper AI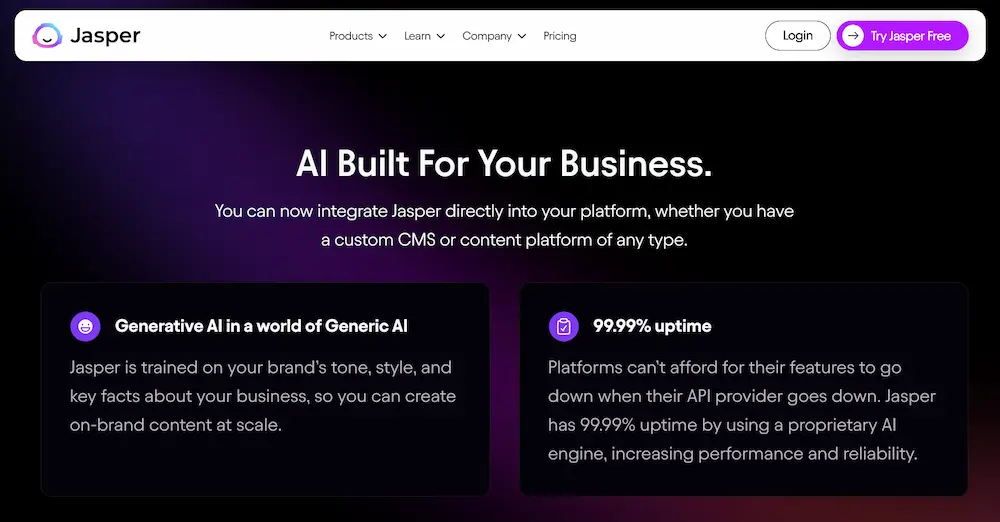 Jasper AI, also known as Jarvis AI, is a robust artificial intelligence writing tool designed to facilitate the content creation process. Developed by the makers of Jarvis, Jasper AI is equipped with various features to help writers in their work. This AI tool uses advanced machine learning algorithms to understand the context and the topic you are writing about. It allows you to give it instructions or a short description of what you need to write, and then Jasper generates high-quality content based on those instructions. In addition, it can create content for various industries, making it an ideal choice for diverse content needs.
Jasper can write blog posts, social media posts, ads, and other forms of content for you at scale. In addition, you can use it to write in English and multiple other languages, catering to a global audience. With different tones of voice, it can match the specific style you need in your content. It also includes a plagiarism checker that helps ensure the originality of the content generated. One significant advantage of Jasper is its ability to generate content quickly, providing excellent results within minutes​.
Website: jasper.ai
Features: Jasper.ai is a platform that is a versatile tool capable of natural language understanding, text generation, translation, summarization, sentiment analysis, chatbot capabilities, creative writing assistance, and question answering.
Plans: Creator: This plan is designed for freelancers, marketers, and entrepreneurs. Teams: This plan is ideal for small marketing teams, and Businesses: This plan is for departments and organizations that need a secure, scalable, and customizable AI platform.
Pricing: Creator: $49/month, Teams: $125/month, and Business: Pricing is custom
G2 Rating: 4.7 out of 5
Pros:
Learns and mimics brand voice, adapting to various styles
Collaborative features for team-based content creation
Converts single content pieces into full-scale campaigns
Uses a mix of the best AI models for optimal performance
Strong security and privacy measures
Cons:
Pricing might be high for individual users or small businesses
Limited seats in the Teams plan (additional seats come with extra cost)
The business plan has a flexible pricing model, which might be a drawback for some organizations
Copy AI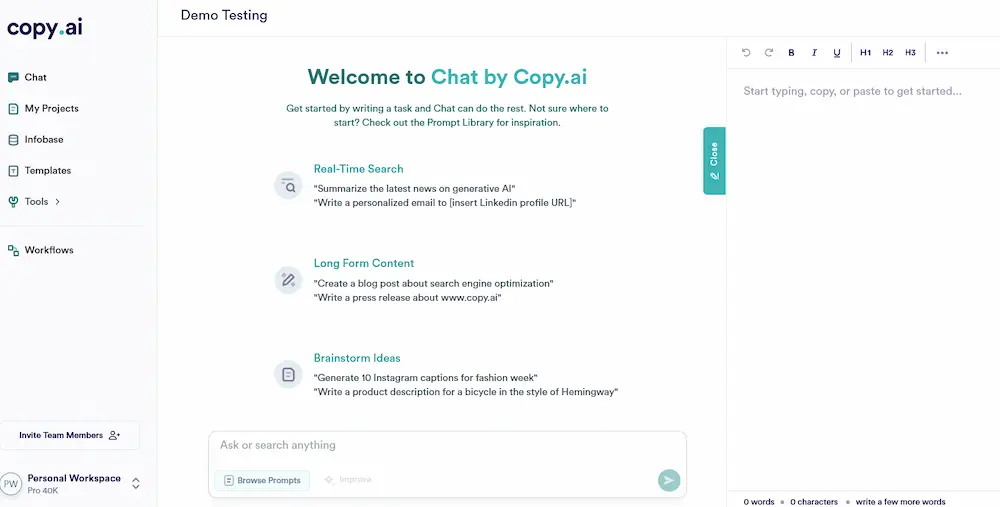 Copy.ai is a powerful AI content generator chosen by professionals and teams for its ability to deliver exceptional results in minutes. The platform is praised for its "First Draft Wizard" which essentially writes the blog content for users, saving them significant time and effort​. It has received numerous accolades from users who express that the tool has made writing enjoyable while reducing the time and mental energy spent on content creation, particularly for blog posts.
Copy.ai is a game changer for content creation and marketing. The platform can generate high-quality posts in minutes, traditionally taking days to create​. It provides various features that aid in creating blog posts, ad copy, website copy, and more​. In addition, it boasts a high standard of security and compliance, providing users peace of mind regarding data handling​.
Website: copy.ai
Features: Copy AI features, AI-driven content creation, over 90 tools and templates, and prebuilt workflow automation to scale your blog and landing page content with one click​.
Plans: Free: Includes 2,000 free words per month​. Professional: With access to all 90+ content types​​. Unlimited: With access to all content types and priority access​.
Pricing: Free: $0/month​. Professional: $35/month​​. Unlimited: $50/month.
G2 Rating: 4.8 out of 5
Pros:
Time-Saving: The AI drastically reduces content creation time​​
Quality Content: Users have praised the high-quality content produced by the AI​
Wide range of use cases: Can be used for blog posts, ad copy, website copy, and more
High level of security and compliance: Copy.ai is SOC 2 Type II compliant​
Cons:
Potential for AI misinterpretation: As with any AI content generator, there may be instances where the generated content does not fully align with the intended context or tone
Dependence on Internet Connectivity: As a web-based platform, usage depends on a stable Internet connection
Customization Limitations: While the AI provides an excellent first draft, human intervention may still be required to add a personal touch
Writesonic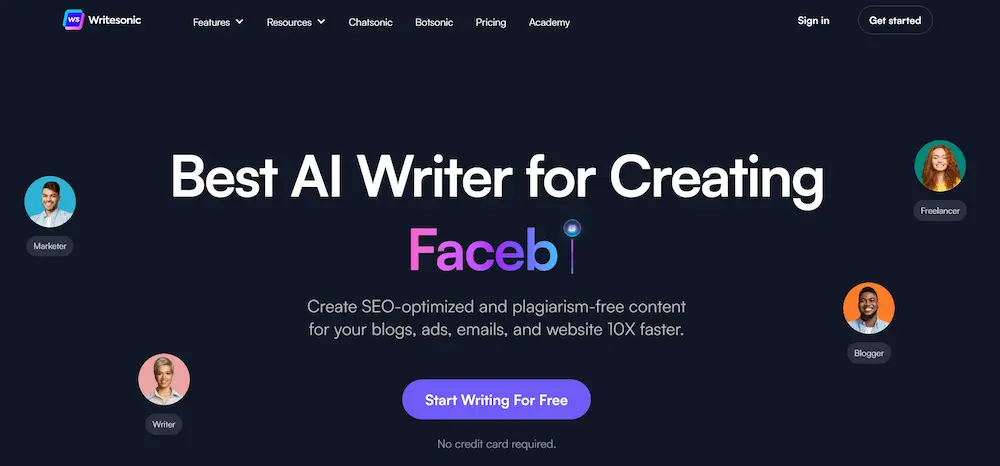 Writesonic is a versatile AI tool designed to facilitate content creation, particularly for blog posts and articles. The platform, which has a 4.7 rating from over 10,000 reviews, leverages the advanced language processing capabilities of GPT-4 to rapidly create SEO-optimized and plagiarism-free content, helping users produce content for blogs, ads, emails, and websites up to 10 times faster. Writesonic generates the content and offers AI-driven editing tools such as a paraphraser, expander, and shortener, enabling users to polish their content to perfection. In addition, the AI behind Writesonic is trained on high-performing copy from top brands, equipping it to generate content that resonates with audiences and drives conversions.
Website: writesonic.com
Features: The AI Article Writer offered by Writesonic is a standout feature that allows users to write articles that are factual, hyper-personalized, and SEO-optimized, all in under five minutes. Powered by GPT-4-32K, this tool can be trained on users' documents and brand guidelines, ensuring the generated content aligns seamlessly with a brand's unique voice and style. In addition, the AI digs into top-ranking Google Search results to build comprehensive and factual blogs, guaranteeing the credibility of the content produced. Writesonic's AI article writer also offers built-in SEO integrations and a plagiarism checker, ensuring the originality and SEO compatibility of the generated content.
Plans: Free: Includes 2,000 free words per month​. Professional: With access to all 90+ content types​​. Unlimited: With access to all content types and priority access​.
Pricing: Free: $0/month​. Professional: $35/month​​. Unlimited: $50/month.
G2 Rating: 4.7 out of 5
Pros:
Versatile content generation
User-friendly interface
Variety of plans to suit different needs
Cons:
More advanced features require higher-tier plans
Some outputs may require editing
Copysmith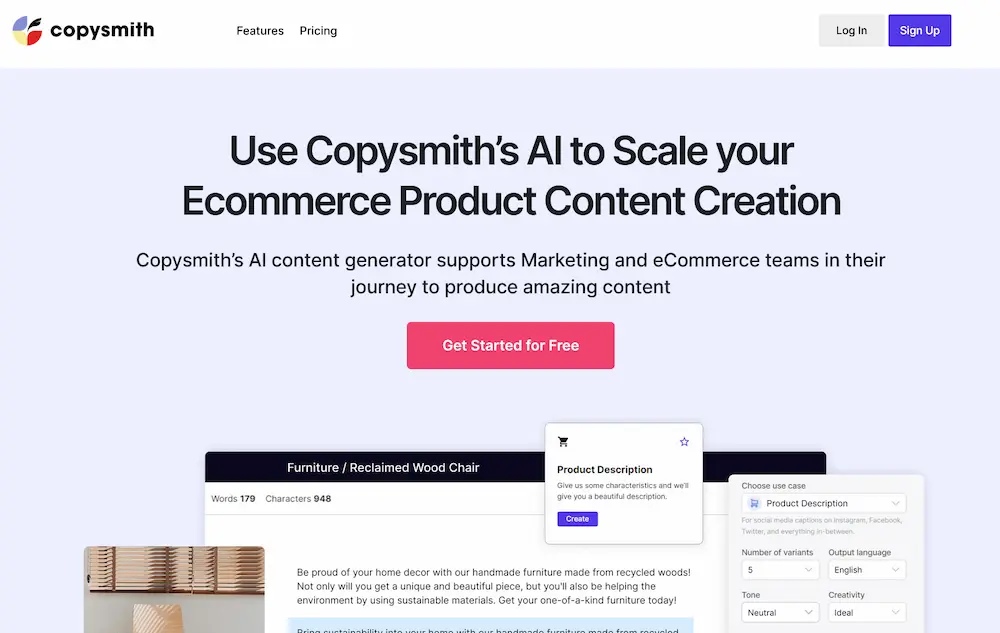 Copysmith's AI is a powerful tool for content creation that leverages technologies such as ChatGPT and OpenAI's GPT models explicitly optimized for the needs of eCommerce copywriting and marketing. As a result, the AI can generate unlimited, high-quality content, manage a robust product catalog, and integrate seamlessly with various eCommerce tools and platforms. A distinguishing feature of Copysmith's AI is its ability to train on your data to write product descriptions that match your brand tone and voice. This makes it an excellent tool for blog content, particularly for those related to retail, manufacturing, and eCommerce products.
Website: copysmith.ai
Features: Copysmith's AI's primary features include content generation, team collaboration, SEO optimization, and centralized product data management. It provides a platform to create various types of content, including product descriptions, FAQs, bullet points, and more. It can optimize and rewrite your eCommerce product copy for better SEO ranking and allows team members to review and collaborate on content. It centralizes product content management, eliminating the need for multiple spreadsheets and tools. Plus, it can generate SEO-optimized, accurate copy in bulk, saving significant time and effort. Finally, it integrates with various third-party tools and eCommerce platforms and offers a robust API for unique integration needs.
Plans: Copysmith offers several packages:
Starter Annual
Pro Annual
Enterprise Plans (Customized)
Starter Plan (Monthly)
Pro Plan (Monthly)
Enterprise Plans (Customized; Monthly)
Pricing: The pricing for the Copysmith packages is as follows:
Starter Annual: $228/year
Pro Annual: $490/year
Enterprise Plans: Customized
Starter Plan: $19/month
Pro Plan: $49/month
Enterprise Plans: Customized​
G2 Rating: 4.3 out of 5
Pros:
High-quality content generation
Team collaboration features
Bulk content generation
Versatile third-party integrations
Cons:
Limited third-party integrations on the Starter Plan
The cost might be high for small businesses or individuals
Article Forge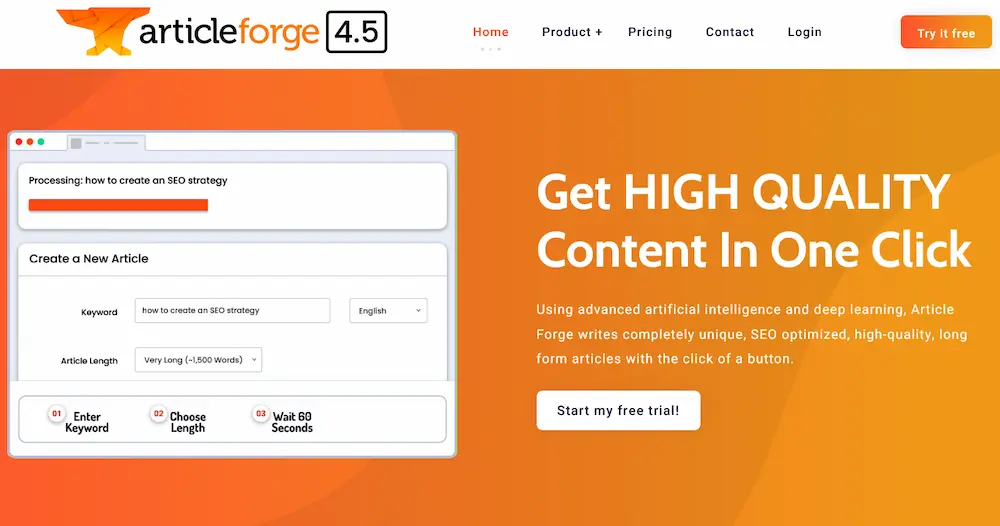 Article Forge is an advanced artificial intelligence (AI) and deep learning tool designed to write unique, SEO-optimized, high-quality, long-form articles. By leveraging AI, Article Forge can produce entire articles with human-like quality at a fraction of the cost. The platform is the product of more than ten years of AI research, and it stands out as the first tool capable of researching, planning, and writing long-form content automatically. As a result, users can generate a unique, well-written, and on-topic article of over 1,500 words with just a click, significantly reducing the time and financial resources needed to create content​.
What sets Article Forge apart is its ability to optimize content for search engine algorithms. Like Google, which uses AI to assess content quality and relevance, Article Forge employs a similar deep learning model to write content. This AI-driven approach ensures the produced content is of high quality, topically rich, and useful, but also written in a way that aligns with Google's ranking preferences​.
Website: articleforge.com
Features: Article Forge can generate unique, relevant, high-quality articles for any keyword phrase in less than a minute. The platform is trained on millions of data points, giving it domain knowledge on virtually every topic. With this AI writer, users can generate high-quality, naturally readable content in minutes, drastically reducing the time spent creating content. Article Forge also automatically adds relevant titles, videos, images, and links to enrich the articles and employs new LSI keyword innovations for search engine optimization. It also automates SEO by automatically scheduling and posting articles to WordPress sites. Moreover, Article Forge supports seven languages, which can benefit users targeting international search terms.
Plans: Article Forge offers two primary packages:
Standard Package: All packages include an AI-powered writer that can generate 1,500+ word articles, bulk article generation, and API access. It also enables automatic blog posting and guarantees that content passes Copyscape. Standard package 1 gets one user and a monthly word limit of 25,000 words. Standard package 2 gets one user and a word limit of 250,000 words per month​​. Finally, standard package 3 gets three users and a monthly word limit of 500,000 words.
Business Package: includes all the standard features plus options for 500,000+ words, custom user accounts, increased article throughput, and a dedicated account manager.
Pricing: Article Forge offers three standard packages and one business package:
Standard Packages: Standard package 1 is billed at $13 monthly, standard package 2 is $27 per month, and the third standard package is billed at 57 per month​.
Business Package: This custom package requires you to contact sales to see the pricing option.
G2 Rating: 4.1 out of 5
Pros
Saves time and cost compared to traditional content creation methods
It supports seven languages, allowing users to target international search terms
Provides a 30-day no-risk money-back guarantee
Cons
Although it supports multiple languages, the quality of content in languages other than English may vary
Pricing is high for small businesses or individual bloggers
The platform might require some initial setup and familiarization
Peppertype AI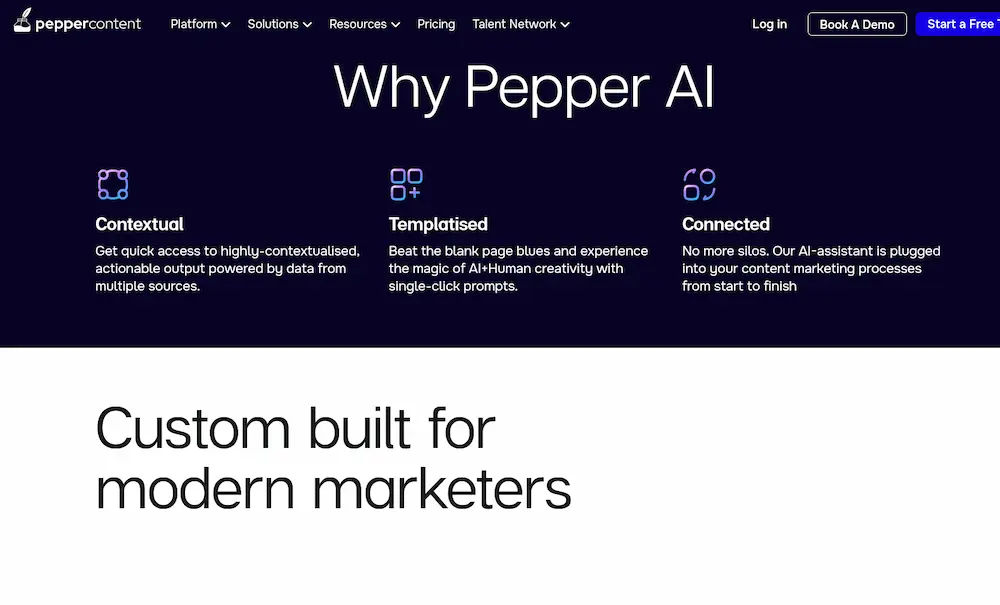 Peppertype AI, a product by Pepper Content, is a powerful ally for content teams, designed to enhance content marketing workflows with the combination of ChatGPT's ease and Pepper's content marketing expertise​. The AI is contextual, providing quick access to highly-contextualized, actionable output powered by data from multiple sources. To combat the "blank page blues", Peppertype offers templatized content, allowing users to experience the magic of AI+Human creativity with single-click prompts. It's also a connected platform, breaking down silos by integrating with content marketing processes from start to finish​.
What makes Peppertype AI excellent for blog content is its suite of features custom-built for modern marketers. These include intelligent prompts that align with marketing goals, personalized content with topic suggestions and expected traffic based on competitor data and AI suggestions, and multilingual support for content creation in over 45 languages. Real-time data and integrations also allow users to create content suitable for their brands. Lastly, efficient workflows powered by the AI platform enable users to manage their content marketing lifecycle effectively​.
Website: peppercontent.io
Features: The primary features of Peppertype AI include:
Contextual output: Provides highly contextualized, actionable output powered by data from multiple sources​
Templatized content: Allows users to combat blank page blues with single-click prompts​
Connected platform: Integrates with content marketing processes from start to finish​
Smart prompts: Delivers specialized prompts that align with marketing goals​
Multilingual support: Supports content creation in over 45 languages​
Plans: Pepper Content offers two main packages:
Premium package: This package includes keyword research, content research, AI writing assistant, and Pepper Docs.
Enterprise package: This includes all Premium perks along with additional benefits such as dedicated onboarding & top-tier support, a dedicated Account Manager, monthly performance analysis, and prioritized query resolution.
Pricing: The pricing for the Premium package is $399 per month with additional charges for extra users. For the Enterprise package, interested parties are advised to contact sales for detailed pricing​.
G2 Rating: 4.6 out of 5
Pros
Allows single-click prompts for easy content creation
Offers integration with content marketing processes
Supports over 45 languages for content creation
Enables brand-suitable content creation with real-time data and integrations
Cons
Pricing may be steep for small businesses or individual users
Extra users in the Premium package come at an additional cost
Access to the account is lost if not enrolled in a paid plan after the trial ends​
The Importance of Prompt Engineering for AI blog post generators
Effective use of AI blog post generators requires a keen understanding of prompt engineering. Being able to accurately and concisely instruct these AI tools is crucial to get the desired output. Simply put, the more effective your prompts, the more useful and targeted your results will be.
The right team, equipped with the know-how to leverage these AI tools, can drastically increase your productivity and efficiency. Training your staff in prompt engineering and understanding the nuances of each tool will enable you to extract the most out of these AI blog post generators. These tools are powerful but require human intelligence and creativity to truly shine.
Choosing the Best AI Blog Post Generator
Choosing the right AI content generator can enhance your content creation process. Each tool offers unique capabilities, from SEO optimization to generating creative marketing copy. Based on features, price, and G2 ratings, the recommended top three for people to consider in 2024 are ChatGPT Plus for its high-quality outputs and advanced AI technology, Surfer SEO AI for its robust SEO features, and Jasper AI for its versatility and multilingual capabilities.
Remember, the key to successfully using these AI tools lies in understanding their unique features and strengths and how to leverage them effectively through prompt engineering. With the right tool and knowledge, you can significantly enhance your productivity, allowing more time for strategic planning and creativity. In addition, always stay updated with the advancements in AI technology, as these tools are continually evolving, offering more powerful solutions to meet your content creation needs.
Embracing AI in your content creation process is not just about following a trend—it's about staying ahead in the digital era. So, choose your tool wisely, understand its capabilities, and let AI elevate your content to new heights.
Ready to Grow Your Search Engine Results?
Let Digital Results assist you in your SEO strategy and help
deliver the search engine results you need.