Google Launches August 2023 Broad Core Algorithm Update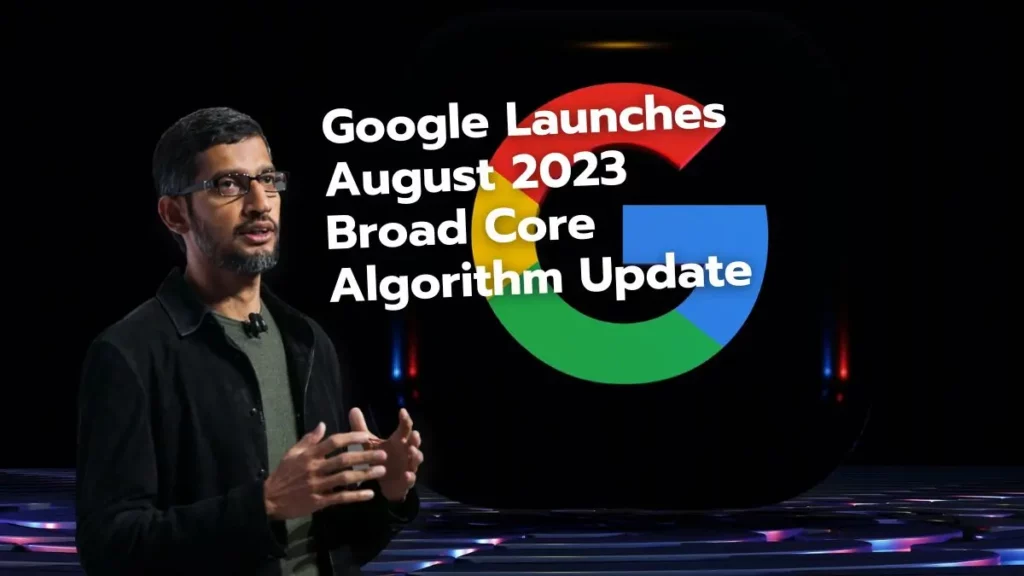 Google's Second Broad Core Update for 2023
Google has unleashed its second major core update for 2023, christened the "Google August 2023 Broad Core Update." The rollout was initiated on August 22, 2023, right around 10:37 a.m. PT. As seasoned observers of Google updates would recognize, these shifts can span a rollout period of approximately one to two weeks. A heads-up for the SEO community: although it's been less than a day since its launch, initial observations suggest this might not be one of the more monumental updates. However, as with all things Google, it's a space to watch closely over the coming days.
Google Search Central announced the start of the update on X.
Which was quickly preceded by Google sharing its news that it had just "Released the August 2023 core update. The rollout may take up to 2 weeks to complete."
August 2023 Broad Core Update Observations
Over the weekend, SEOs noticed some big changes. Some thought maybe Google was testing something new. But when asked about this, Google said that it's not related. We often see this type of happening right before a major core algorithm update.
Right now, the new big change from Google in August 2023 doesn't seem to have messed up the order of websites too much, from what we can see. Many people talked about the changes they thought they saw over the weekend, but only a few are talking about it now. Also, the tools we use to check things show little differences from yesterday.
We'll keep watching this closely and let you know if we see anything interesting. For now, the changes seem to be happening slowly.
It's important to remember that these big changes from Google can take up to two weeks to finish. The first changes we see might not be the final ones. So, waiting and seeing the full effect before getting worried is a good idea. Stay calm, and keep checking in!
Google August 2023 Core Update Highlights
Let's break down the key points about the Google August 2023 Broad Core Update:
Google Given Name: Google August 2023 Broad Core Update
Release Date/Time: Debuted on August 22, 2023, at 10:37 am PT
Deployment Phase: Anticipate a rollout span of approximately 1-2 weeks
Coverage: The update looks to evaluate every form of content
Range of Impact: A universal shift, this update encompasses all geographies and languages globally
Nature of Update: It isn't about penalizing; instead, it's focused on endorsing and acknowledging superior web content
The Extent of the Impact: Although Google remains discreet on the exact quantum of queries affected, early indications are that this update is a quintessential core revision with rapid, expansive repercussions
Integration: Notably, this core revamp also has implications for Google Discover, featured snippets, and other ancillary functionalities
Remedial Measures: If your site feels the heat from this adjustment, it's pivotal to revisit your content quality and align with Google's core update guidelines for optimization
Future Adjustments Planned: While Google pledges regular refinements to this algorithm, they might remain silent on subsequent minor changes. Such silent updates might have been witnessed with past core updates, potentially explaining unannounced shifts in search outcomes and irregularities.
August 2023 Core Update: Insights from Tracking Tools
Based on the tracking tools' data, here's the current status concerning the Google August 2023 Core Update:
Static Levels: A significant number of tracking tools report that there has yet to be any notable change or fluctuation when comparing the data with previous days. This suggests that the core update's immediate effect might be subtle or yet to be felt in full force.
Lower Volatility: Some tools indicate decreased volatility levels. In SEO terms, volatility refers to the changes or fluctuations in website rankings. Lower volatility means that websites maintain their positions and do not experience many ups or downs.
Consistent Trends: Currently, the tools showcase consistent trends, implying that the initial fear or anticipation of the core update causing major disturbances might be unfounded, at least in its early days.
Observation Period: Given that these updates can take up to two weeks to roll out fully, monitoring these tracking tools over an extended period is crucial. Immediate responses might not capture the eventual impact of the update.
While there's always anticipation and concern surrounding Google core updates, the tracking tools suggest that the August 2023 Core Update has begun on a rather calm note. However, the SEO community should remain vigilant and monitor the situation as the update completes its rollout.
Desktop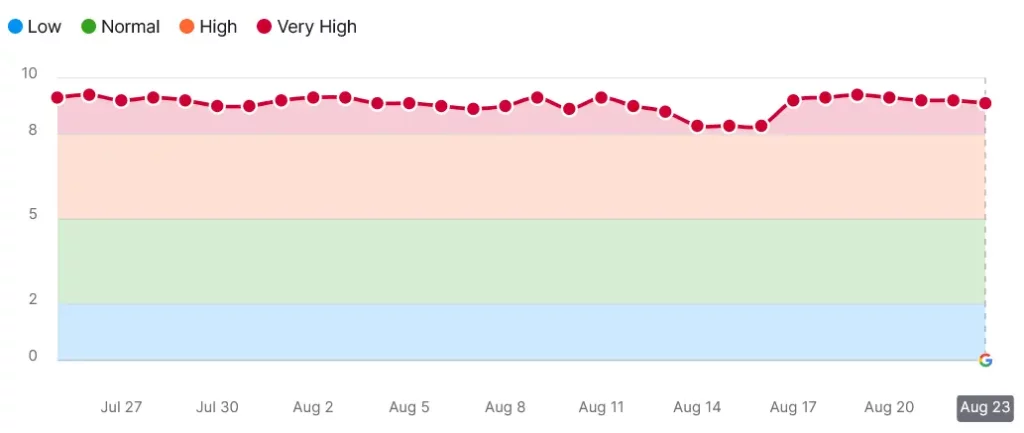 Mobile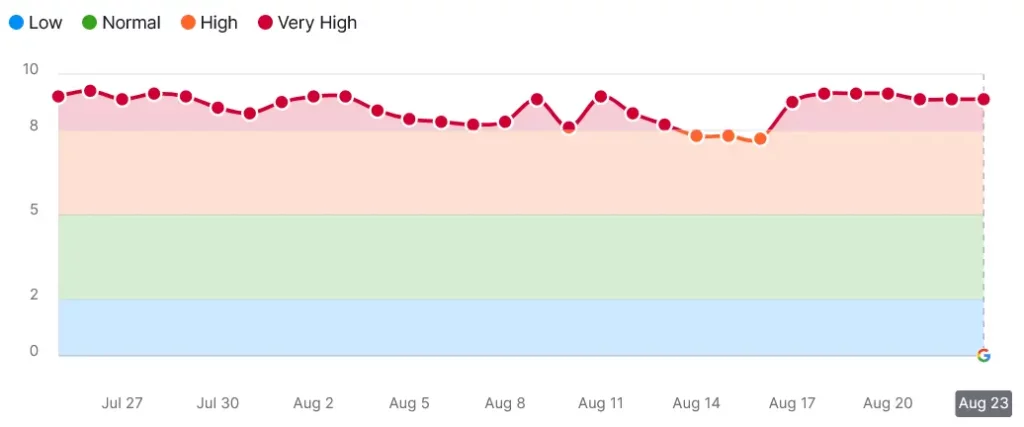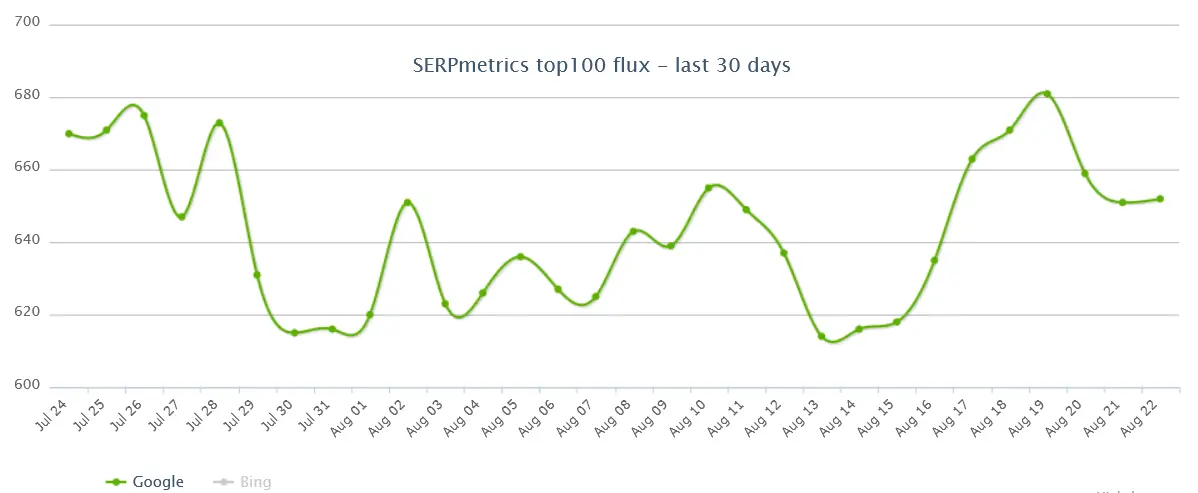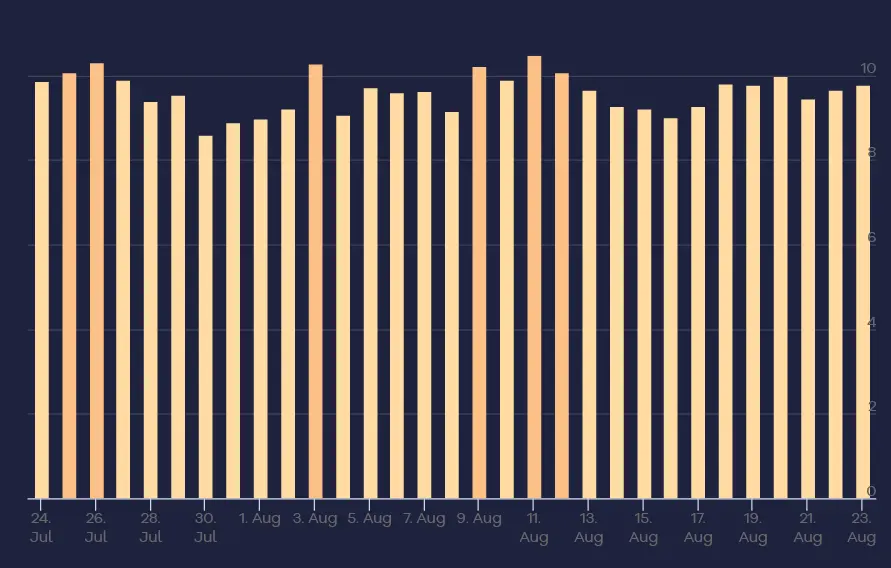 Understanding and Bouncing Back from Core Updates
When Google releases a core update, here's what you might experience and how to respond:
Varied Effects: Core updates can change how a website ranks on Google. Your site might rank higher, drop in rankings, or stay the same.
No Fault of Yours: If your website drops in rankings after a core update, Google says it's not because your website has problems.
Reason for Change: Sometimes, a drop happens because Google adjusted how it sees and ranks content. It doesn't always mean something's wrong with your content or how your website is set up.
Improving Over Fixing: Google suggests that if your site's ranking drops, don't just try to find small technical things to fix. Instead, work on making your website even better overall.
In short, Google's core updates are about giving users the best answers to their questions. If you focus on providing high-quality content and a great user experience, you're on the right track, no matter how these updates shift the rankings.
What's Next?
As the repercussions of Google's August 2023 core update begin to surface, there are a few key things to remember for businesses and SEO experts:
Stay Calm: It's essential to be patient as the full scope of the update reveals itself over time.
Quality Over Quantity: Concentrate on elevating your website's quality. Offering valuable content and a top-notch user experience will always be beneficial.
Avoid Shortcuts: Quick, surface-level fixes might not be the answer. Instead, a holistic approach to SEO and content strategy is recommended.
Stay tuned. We'll continue to provide updates on this topic as more insights and details emerge.