Digital Marketing Customer Journey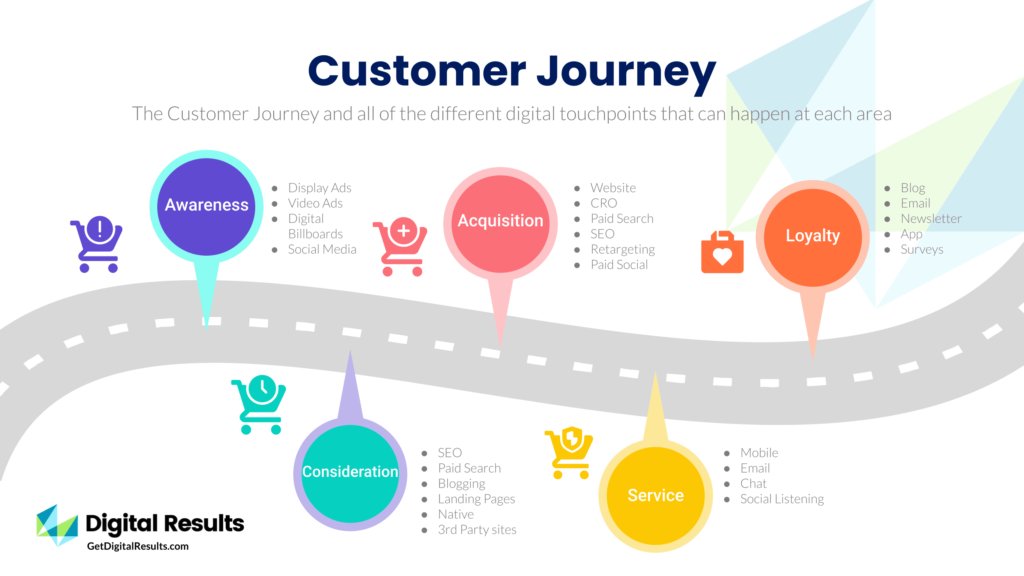 ---
Have you ever asked yourself any of the following questions? What exactly is a customer journey? Does it possible to use email marketing to target a new customer? How can I create the best digital marketing strategy for my brand? We will help answer these questions.
Today we will cover the different digital marketing channels and how they fit into the Digital Marketing Customer Journey for most businesses.
Why is it Important to Understand the DMCJ?
With the advent of the internet and digital marketing, businesses have shifted from relying on traditional marketing methods to including digital media and content as a relevant part of their marketing strategy. Now, more than ever, people spend more time online and use their smartphones to find information about products and services. Therefore, digital marketing campaigns are more important than ever, and there is an increased focus on their effectiveness.
What is the Digital Marketing Customer Journey?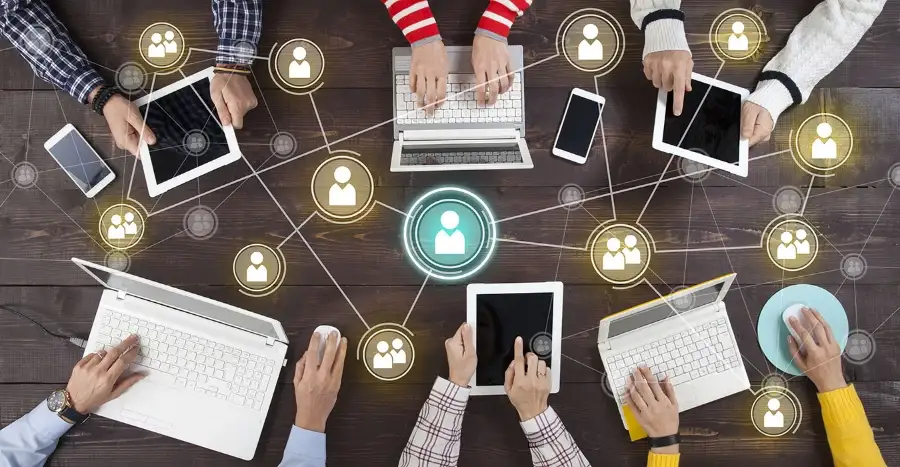 The Digital Marketing Customer Journey is the process that takes place when a user decides to solve a problem or achieve some goal. The journey starts when a user identifies they have a need and ends when that need is satisfied by acquiring the products or services necessary to achieve it.
Users who interact with your brand will go through five phases: awareness, consideration, acquisition, service, and loyalty. The user will decide to buy or not buy a product depending on how every interaction with your brand makes them feel. A user journey map is a handy tool for visualizing the interactions and touchpoints between users and a product or service.
5 Stages of a Digital Marketing Customer Journey

1. Awareness
During the awareness or discovery stage, the customer realizes they have a need that your product or service can fulfill. It is important to note that "the need" can be anything from fixing a leaky faucet to finding a new job.
You may feel like trying a new Mexican restaurant, for example, if your favorite restaurant closed and you're looking for a new favorite. Or, you may feel like getting your nails done after reading a post on Instagram about a new self-serve computerized nail company.
Awareness of a brand or product can come from various offline sources, including conversations with friends, a shop window display, or a TV commercial. In addition, customer journeys can start offline and go digital along the way.
Today, we will investigate a digital process that is becoming increasingly common. The most common way to reach the awareness phase is through advertising, which can be done on social media, websites, search engines, or even in articles sponsored by third parties.
However, this first stage requires little to no effort from the user's standpoint. They gain awareness about a need by observing advertisements or listening to a friend talk about a specific brand. If they decide to investigate further, we move on to the next phase – Consideration.
Digital advertising channels that are traditionally used during the awareness stage include:
Video Ads
Digital Billboards
Social Media

2. Consideration
The digital consideration phase of the customer journey is when users begin to think about what they have discovered and consider if and where to buy it.
Because the consideration stage is where most companies invest the most money, it is also where competition for consumers is fiercest. As a result, a business must attract users with various digital marketing strategies to stay competitive in the marketplace.
It is also when you have to show the client what you are offering and why your service or product is better/different than the competition. During this stage, it is important to remember that this process is not purely intellectual but emotional.
It is crucial to differentiate yourself from the competition by offering the added value of your brand at the consideration stage. Sometimes it is not enough for businesses to simply solve a customer's immediate need; companies should also strive to understand their customers' needs so that the customers will eventually become loyal customers.
Digital advertising channels that are traditionally used during the consideration stage include:
SEO (Search Engine Optimization)
Blogging
Targeted Landing Pages
Native Digital Advertising
3rs Party Aggregator Sites

3. Acquisition
At this stage, businesses are trying to get the customer to make the purchase or conversion; this is the acquisition stage.
Businesses must provide an excellent customer experience in this stage of the digital marketing customer journey. Users might abandon their purchase if they find a website difficult to use. They might leave altogether if the checkout process doesn't work for them.
If your customers have a poor experience, they will likely turn to your competitors. To prevent this from happening, make the purchase process is as easy and streamlined as possible for them.
To make the purchase process easier, you can offer customers different ways to complete their transactions, such as offering competitive shipping options or providing payment methods other than credit cards. These steps are crucial because the sale can slip through your fingers at the last moment.
Digital advertising channels that are traditionally used during the acquisition stage include:
Website Personalization
CRO (Conversion Rate Optimization)
Paid Search (PPC/SEM)
Retargeting
Paid Social

4. Service
After your customer has made a purchase, the most crucial factor in keeping your customers is good service. If your customer service department has provided a positive experience, it will be easier for customers to be happy with their purchases.
One of the best ways to accomplish that is to promptly respond to customers who have questions or requests. This will help you develop a better reputation, which will increase lifetime customer value.
You can implement a variety of strategies to build long-lasting customer relationships. For example, you can enhance a customer's experience by offering additional resources or freebies with their purchase, creating chat systems for standard questions online, monitoring social platforms to respond in real-time, and conducting follow-up interviews with customers to learn more about their recent experience with the brand.
In the service stage, you should focus on making your clients feel important, thereby establishing a more substantial client relationship.
Digital advertising channels that are traditionally used during the service stage include:
Mobile Apps
Emails
Chat
Social Listening

5. Loyalty
Finally, in the loyalty stage, we need to motivate these satisfied customers to tell others about us. In this stage, Word of Mouth (WOM) is imperative to the success of a product or service.
For businesses of all types, digital marketing can help achieve these recommendations through customers. Knowing that retaining a customer is more profitable than getting a new one, your company's profitability will most likely increase if you encourage your retained customers to recommend you.
Digital advertising channels that are traditionally used during the loyalty stage include:
Blogging
Emails
Newsletters
Mobile Apps
Surveys
The #1 Mistake Businesses Make in the Digital Marketing Customer Journey
The most common mistake businesses make as they work through the different stages is consistently stopping to focus on the customer after the acquisition stage. Instead, many constantly work at getting the sale and then rush back to get the next sale. This is usually seen as a necessity by many businesses, but doing this will significantly decrease the overall profitability of the business in the long run.
Help Your Business' Digital Market
Share Grow?
Let Digital Results assist you in creating a digital strategy that will help you through all stages of digital marketing. Let our experts assist you in beating your competition in digital marketing.
---