SEO marketing, or search engine optimization marketing, is a type of digital marketing that focuses explicitly on improving the organic ranking of a website on search engines like Google. Optimizing various elements of a website, such as a title tag, content, and user experience, an SEO marketing strategy aims to increase the organic traffic a website receives from search engines.
One of the critical elements of SEO marketing is keyword research. Using tools like Google's Keyword Planner, businesses can identify the phrases and terms potential customers are searching for and incorporate them into their website's content and metadata. This helps search engines understand what a website is about and, therefore, how to rank it in organic search results.
In addition to keyword research, a successful SEO marketing strategy should also focus on creating high-quality content. This content should be relevant to the website's target audience and provide value in the form of information or entertainment. By publishing valuable content, businesses can attract organic traffic to their website and improve their search engine rankings.
Another important aspect of SEO marketing is the user experience. By optimizing the user experience, businesses can make it easier for users to navigate their website's web pages, find the information they are looking for, and take desired actions like making a purchase or filling out a form. This can improve the likelihood of converting website visitors into customers and impact a website's search engine rankings.
When a user searches for a term on a search engine like Google, it returns a list of results on their search engine results pages (SERPs). These results can be divided into two categories: paid and organic. Paid results are sponsored listings that businesses pay to have displayed at the top of the SERPs, while organic results are the non-paid listings ranked based on relevance to the search query.
As a marketing technique, SEO strategy focuses on improving a website's organic result ranking on the SERPs. By optimizing various elements of a website, businesses can increase the likelihood of their website being displayed as an organic result for relevant search queries. This can result in increased organic traffic to the website, as well as improved search engine rankings.
Why Is Search Engine Optimization Marketing Important?
When businesses think about marketing, most of them put Search Engine Optimization (SEO) and search engine marketing (SEM) in the same category. However, there is a significant difference between the two digital marketing techniques.
Although both help visitors gain access to your website, search engine marketing is about directly advertising to this audience through different mediums like paid ads or PPC.
On the other hand, search engine optimization can help you increase your website's traffic by making it more visible in search engine results, so you get more visitors from search engines without paying for it.
While both are important, it's more critical for your business's long-term stability to have a strong presence in the organic rankings than spending money on PPC, and that is why SEO is important.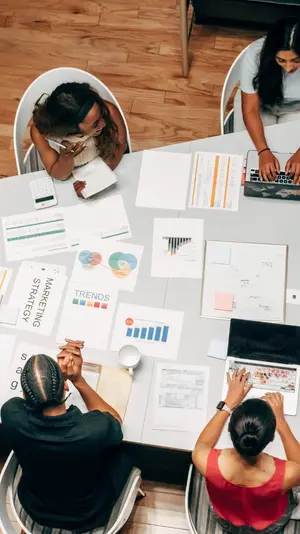 How Can Companies Boost Their SEO Results?
SEO is the core of any successful digital marketing strategy. But strategies need to be in place to guide future success. Marketing SEO is a broad concept that helps companies gain more insight into how they perform online, how their competitors perform, and the trends that will drive future business results.
Some experts refer to this as "marketing SEO analytics" — a way of determining the value of SEO efforts, providing insights on how an organization can perform better in the future, and quantifying the value of SEO campaigns.
There is a growing demand for companies to adopt marketing strategies that not only improve their online visibility but also boost their importance in the eyes of consumers. This can be accomplished through effective search engine optimization (SEO). Businesses are now focusing on optimizing content, design elements, and mobile optimization of their websites, hoping to increase the likelihood of consumers accessing their websites through a search engine like Google. The result is a significant increase in organic traffic, which leads to higher revenues and profits.
SEO Marketing Wrap-Up
In conclusion, SEO marketing is a type of digital marketing that focuses on improving a website's ranking in organic search results on search engines like Google. By performing keyword research, creating high-quality content, and optimizing the user experience, businesses can develop an SEO marketing strategy to increase organic traffic and improve search engine rankings.
Top SEO FAQs and Questions
Welcome to the Digital Results guide to the top SEO FAQs and questions. We will provide you with valuable insights and tips to optimize your website and boost your online visibility. Whether you're a beginner or an experienced marketer, these guides will help you understand SEO and address some of the most common questions and concerns.
Ready to Grow Your Search Engine Results?
Let Digital Results assist you in your SEO strategy and help
deliver the search engine results you need.
Local SEO's effectiveness hinges on understanding and optimizing for unique ranking factors. These factors are distinct from general SEO and are crucial for businesses aiming to enhance their visibility in…